National Reference Laboratory is First in the UAE to Receive Combined EIAC ISO 15189 Accreditation for COVID-19 Antibody and PCR Testing
Abu Dhabi
Mubadala Healthcare's National Reference Laboratory (NRL) has become the first laboratory in the UAE to receive ISO 15189 accreditation for COVID-19 serology, also known as antibody testing. At the same time, it received ISO 15189 accreditation for its PCR COVID-19 testing at its facility in the Industrial City of Abu Dhabi (ICAD), making it the first laboratory to have the combination of tests accredited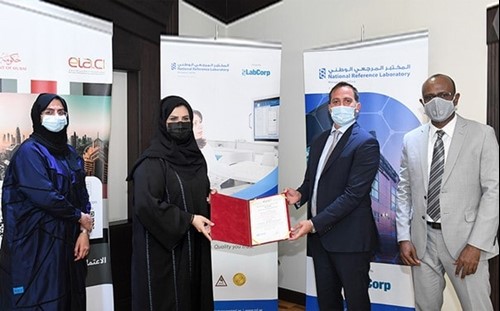 HE Amina Ahmed Mohamed, CEO of EIAC, said the accreditation of NRL falls under the umbrella of the EIAC ILAC Mutual Recognition Arrangement (ILAC MRA), which provides significant technical underpinning to the medical testing that, in turn, delivers confidence in the  COVID-19 test results issued in the UAE. She added, "This is qualifying the results to be internationally accepted due to the high reliability and accuracy of results issued by competent accredited national laboratories, which also plays a vital role in managing the coronavirus pandemic."
Abdul Hamid Oubeisi, NRL Chief Executive Officer, said: "This prestigious accreditation reflects our dedication to meeting the highest international standards for quality and accuracy across all areas in which we operate, including PCR and serology testing. EAIC ILAC MRA ISO 15189 is a globally recognized mark of competency and excellence in laboratory standards and cements NRL's position as a regional quality leader."
NRL's Chief Medical Officer and ICAD Laboratory Medical Director, Dr. Basel Altrabulsi adds: "Receiving ISO 15189 accreditation status from the Emirates International Accreditation Center (EIAC), provides confidence in a laboratory's competency and ensure accuracy of test results."
"The vigorous review from an independent and impartial body demonstrates the accuracy and quality of NRL's testing process through compliance with a comprehensive checklist of international standards. An important procedure to verify whether the system works correctly is proficiency testing, where unknown samples are distributed to participating laboratories to correlate and compare testing performance against pre-established criteria. Another is method validation, where the accreditation agency determines that our methods are scientifically sound and consistent across platforms, ensuring that results are both reliable and accurate," Dr. Altrabulsi adds.
According to Oubeisi, the accreditation process is a key component of NRL's quality assurance and it has one of the largest ISO 15189-accredited test menus in the region. The NRL network of laboratories regularly undergo inspections by various bodies and, in 2019, 28 inspections across the entire NRL network were successfully completed for accreditations including the College of American Pathologists (CAP), ISO 15189, ISO 22870, Joint Commission International (JCI), and the American Association of Blood Banks.
As part of an expansion drive, NRL recently opened a second COVID-19 testing facility in Dubai Science Park, while simultaneously introducing an advanced virus-detection system and adopting new technology for delivering COVID-19 test results in record time for critical medical cases.