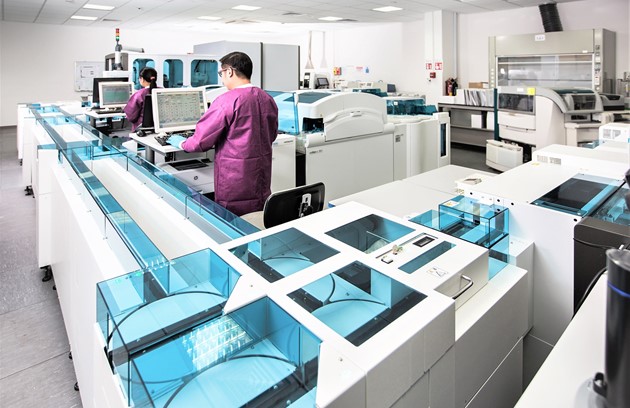 National Reference Laboratory (NRL), a Mubadala Health partner, is focused on increasing the quality, spectrum, coverage and overall efficiency of laboratory testing in the UAE and GCC region. NRL implements international best-practice laboratory processes and aims to set the benchmark for quality standards in the region.
Established in 2010, NRL has grown from a single standalone reference laboratory to a network of 10 state-of-art facilities across the UAE. NRL provides world-class diagnostic services to the Mubadala Health network as well as partnering with 250+ clients from a range of market segments, including: private and government hospitals, medical centers and clinics, corporate organizations and other reference laboratories.
NRL offers a comprehensive menu of tests, providing a complete solution for all clinical testing needs in an efficient and high-quality environment. NRL performs 98% of tests in-country allowing for improved patient care as a result of a quicker turnaround time, greater quality control and a reduction in logistics-related costs. As part of our in-house test offering, NRL is also home to seven diagnostic Centers of Excellence (CoEs), these CoEs have been created to bring vital expertise and services to the UAE in response to the needs of the region. NRL connects referring physicians with locally present subspecialized experts to provide highly specialized in-country expertise. NRL's scientific team is one of the largest internationally accredited and board-certified expert teams in the country. It comprises 20+ pathologists and clinical scientists providing specialized experience and expertise across a range of disease areas, supported by a team of over 200 medical laboratory scientists.
Mission To provide unparalleled, quality care through an exceptional patient experience that is delivered by world-class caregivers and enabled by research, education and state-of-the-art facilities.
Vision To transform the regional healthcare landscape.
Values
Compassion

Excellence

Integrity

Partnership
Quality Accreditations
NRL is a leader in quality with 21 international accreditations and one of the largest CAP accredited laboratory networks in the region.