National Reference Laboratory Expands Scope and Reach of Services
Abu Dhabi
As part of an expansion drive, Mubadala Healthcare's National Reference Laboratory (NRL) has opened a second COVID-19 testing facility, while simultaneously introducing an advanced virus-detection system and adopting new technology for delivering test results in record time.
Working closely with the Dubai Health Authority (DHA), NRL constructed the new COVID-19 laboratory at its Dubai facilities in under three weeks. Having passed its DHA inspection, the new laboratory is already accepting samples from hospitals and clinics across Dubai and the Northern Emirates, and has a scalable infrastructure to allow for capacity to be ramped up to meet demand.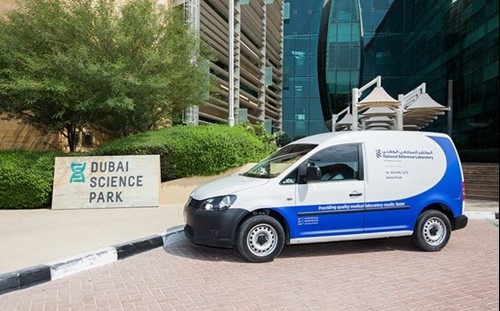 Abdul Hamid Oubeisi, Chief Executive Officer of NRL, says: "Our world-class COVID-19 laboratory in Abu Dhabi has already delivered more than 250,000 test results. Advanced equipment and a highly skilled scientific team are needed to process these results accurately within a quick turnaround time. Through knowledge-sharing and by leveraging the expertise already gained, the process of establishing a similar laboratory in Dubai proved seamless.
Oubeisi says that NRL's expansion drive goes beyond reach, and includes continually extending the scope of its services and looking for ways to help entities such as corporates in supporting decision-making on return-to-work and other safety policies.
"The key motivation for our ongoing expansion is that we cannot simply react to situations like the COVID-19 pandemic. Instead, we must continually increase our knowledge and upgrade technology to support the community with its immediate needs, as well as beyond the pandemic.
"We recently launched antibody testing to complement conventional COVID-19 testing, and we are also adopting two new forms of technology at our Abu Dhabi laboratory. The first enables us to deliver test results for infections within 45 minutes to three hours for critically ill patients, which increases efficiency in providing care for the most vulnerable segments of the UAE population. The second new technology is genomic sequencing, which has a multitude of public health benefits."
The rapid sample-processing system is one of only a few in the region and is best used in critical cases where time is of the essence. Its sensitive detection can drive appropriate treatment decisions and infection control, while the fully integrated automated platform offers superior accuracy. It performs nucleic acid extraction and reverse transcriptase polymerase chain reaction (RT-PCR), providing results for multiple syndromes, including COVID-19, in under three hours.
The Abu Dhabi laboratory's new genomic sequencing technology, on the other hand, has longer-term benefits as it is a powerful tool for monitoring diseases and providing information about viral transmission in general.
This helps researchers to identify genetic changes in a virus when it spreads, and assists in the development of treatments and vaccines that target specific features of a virus. It can also offer insights into the effectiveness of treatments and future vaccines as the virus continues to mutate. In addition, the knowledge produced can help in tackling future pandemics.

Oubeisi concludes: "We will continue to work closely with the government, health authorities and other parties to investigate the potential of extending our services in any way that they can benefit the UAE population or economy. There is currently a lot of potential to help employers in their decision-making, and we are also exploring ways to adapt our newly acquired technologies for broader use in the future."