National Reference Laboratory and the College of American Pathologists Raising Awareness of International Quality Standards for Clinical Laboratories.
Abu Dhabi
Inspiring experts and international leaders in the field of laboratory medicine took part in the Laboratory Preparation Program, organized jointly by the National Reference Laboratory (NRL) and the College of American Pathologists (CAP)
Educational program aimed to highlight and explain the latest developments and changes to the CAP checklist and accreditation process.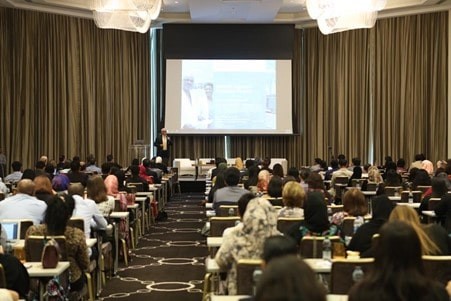 National Reference Laboratory (NRL), part of Mubadala's network of healthcare providers, hosted a Laboratory Preparation Program on Saturday, 13 April in collaboration with the College of American Pathologists (CAP).
The educational program brought together a number of Laboratory professionals from CAP and NRL, to raise awareness of the latest changes in the CAP checklists and standards, and their impact on the current accreditation process and patient care.
The CAP program was led by a faculty that included members of the CAP leadership from the USA, as well as other global and local experts highly experienced with the clinical laboratories accreditation process.
Abdul Hamid Oubeisi, Chief Executive Officer of NRL, said: "With an estimated 70 percent of medical decisions being influenced by the results of laboratory tests, laboratory quality accreditations are essential to ensure high-quality practices, improved patient outcomes and a cost-efficient healthcare system."
"We are excited to have partnered with CAP once again to host this educational program which served as a platform to share our knowledge and experience with the regional medical and laboratory community. Such educational events are aligned with NRL's mission to improve the standards of laboratory excellence and patient care."
Dr. Basel Altrabulsi, Chief Medical Officer of NRL and co-chair of this conference said: "We were delighted to partner with CAP yet again and to organize jointly this CAP Laboratory Preparation Program. The previous joint event had generated significant interest from laboratory professionals in the region, demonstrating the growing focus of regional laboratory professionals to further improve their understanding of the CAP standards requirements."
"The program held earlier this month was another successful conference that contributed to raising awareness of CAP standards and the methods of implementing them. Our hope is to ensure compliance, and ultimately improve patient care."
The CAP Laboratory Preparation Program was designed for pathologists, laboratory scientists and medical technologists, who regularly participate in preparing for accreditation inspections and who are involved in conducting competency assessments and test validations.
Saturday's event focused on recent changes to CAP accreditation requirements and their impact on both anatomic and clinical laboratory testing. The content included practical tips for assessing competency as well as performing interim self-inspections to ensure sustained compliance and continuous quality improvement.
The event was held at Four Seasons Hotel Abu Dhabi at Al Maryah Island, on Saturday 13 April 2019.