National Reference Laboratory and Cleveland Clinic Abu Dhabi Integrate Laboratory Facilities
Abu Dhabi
National Reference Laboratory (NRL) and Cleveland Clinic Abu Dhabi – both part of Mubadala's network of healthcare providers - today announced that they have signed an agreement to integrate and optimize laboratory facilities, making NRL the exclusive provider of complete on-site laboratory management solutions and laboratory referral services to the multispecialty hospital.
National Reference Laboratory is the largest reference laboratory in the UAE, with plans in place to continue to expand to meet the clinical laboratory needs of the nation and the region.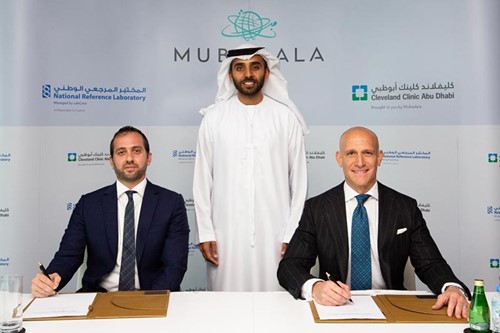 This integration will deliver a range of efficiencies for both organizations, and support an improved patient experience, with faster response times and an enhanced testing menu of specialized and sub-specialized services. Together with its partner LabCorp, NRL's specialist test menu includes more than 4,700 tests, which is one of the largest laboratory test menus in the world.
Abdulla Abdul Aziz Al Shamsi, Head of Mubadala Healthcare said: "Mubadala has built a network of leading healthcare assets in the UAE, and we continue to look for opportunities to encourage partnerships and collaboration between them that will deliver better results for patients and the wider community. This new partnership between NRL and Cleveland Clinic Abu Dhabi provides a positive example of joined-up service provision, which will ultimately improve patient outcomes and reduce the need to travel abroad to receive care."
Dr. Rakesh Suri, Chief Executive Officer at Cleveland Clinic Abu Dhabi said: "The people of the UAE expect and deserve the highest standards of medical care, which requires healthcare providers to collaborate and innovate to deliver a better patient experience. By partnering with NRL, the UAE's largest and most comprehensive laboratory, we will enhance our testing services and be able to diagnose conditions earlier and more effectively. This is another important step forward in addressing the healthcare needs of the nation."
As part of the change process, laboratory professionals who were previously employed at Cleveland Clinic Abu Dhabi will continue to work at the hospital and will be managed by National Reference Laboratory.
Commenting on the collaboration, Abdul Hamid Oubeisi, Chief Executive Officer at National Reference Laboratory, said: "This partnership stems from a joint recognition of the crucial role that fast, reliable and high-quality testing plays in informing patients' treatment plans and guiding patient management. With our state-of-the art technology and advanced laboratory, logistics and specimen management expertise, we will ensure all patients have access to a coordinated and seamless continuum of care."
NRL is the largest network of CAP-accredited laboratories in the Middle East. This partnership expands NRL's network of laboratories in the UAE to a total of 10, including two referral laboratories owned by NRL and 8 on-site laboratories managed by NRL on behalf of its hospital or medical center clients. In addition, NRL offers referral testing services to a host of clients nationally and regionally.